20th June 2017
So, for two years we have planned our 'dream day'. Hilltop hotel, Hanioti in Greece. We had always known this was the place we would get married, our second home, a place where we come to unwind and see our lifelong friends. Little did we know how amazing our day would actually be.  
The planning of the day was made stress-free by Kostas, one of the owners of the hotel.. He was on hand every time I messaged and reassured me everytime I had a Bridezilla moment! The morning of the wedding arrived and very untraditionally, David and myself spent the night before together so we could gather with friends on the morning and share a beer... the excitement and nerves were building. I am so glad we did it this way, we got to share extra memories with our little boy Albert, who is two. He too was very excited for mammy and daddy's 'party'.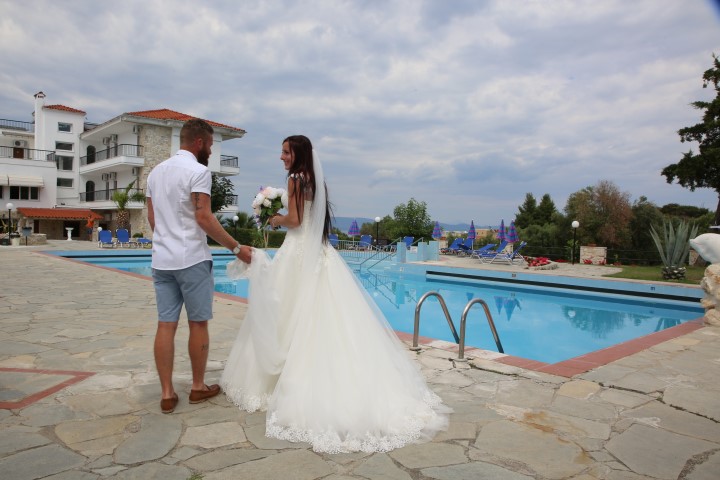 The staff were fantastic, arranging all of the decor which looked beautiful. The setting was just perfect, with sea views we couldn't have asked for more. At midday I kissed David goodbye, knowing the next time I see him, we would be getting married!!
Off I went with the bridesmaids to get ready. Kostas swiftly arrives with a bottle of champagne for us to enjoy. Then at 2.30pm, our photographer Zois arrives and starts snapping away as we get ready.
3pm and it's time to go get married!! My father and I walk down the aisle as our closest friends and family shed a few tears. The ceremony was just beautiful, with everyone commenting after just how lovely it was.
More photos followed with our brilliant photographer, making us laugh and feel at ease for the most natural pictures.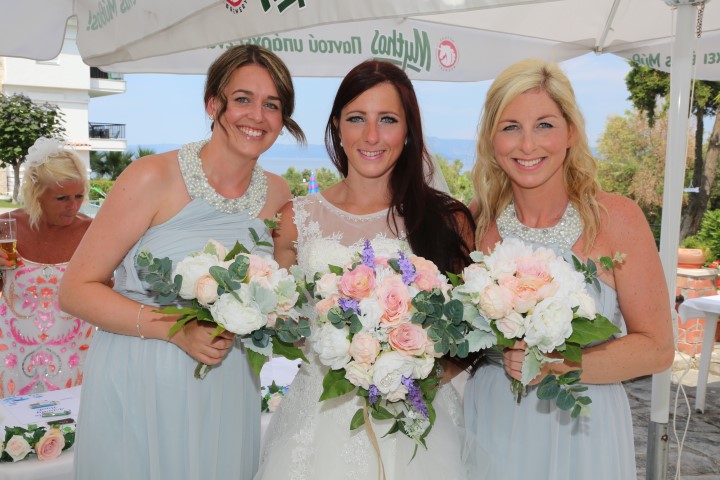 Then we were seated ready for our big Greek wedding meal. I knew the food would be fantastic here but I never imagined just how fabulous it would be. The chef, Chris, has done an amazing job. The food consists of moussaka, pork souvlaki, spit-roasted chicken, every salad in every colour that you can possibly think of to name just a few. It was the best spread of food I have ever seen and everybody commented just how good it was. Chris is a credit to the hotel.
Wine and champagne flowed, the staff covering every small detail to ensure our special day was made even more special.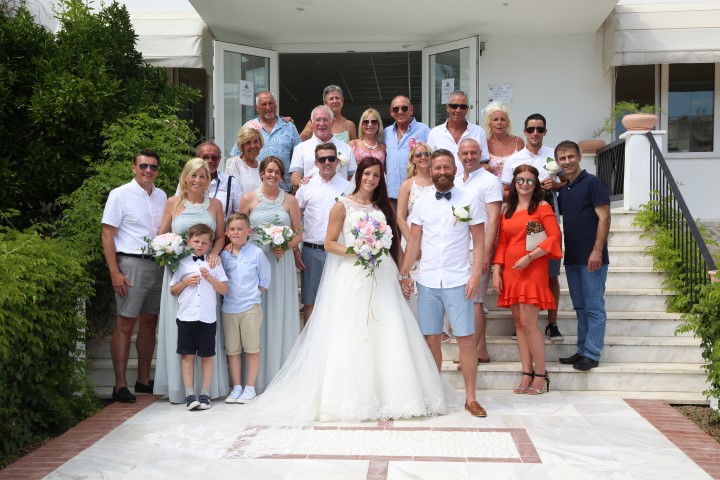 The DJ arrived and the Greek dancing and singing went on until the early hours of the morning. It truly was without a doubt, the best day of our lives.. I just wish we could do it all again..